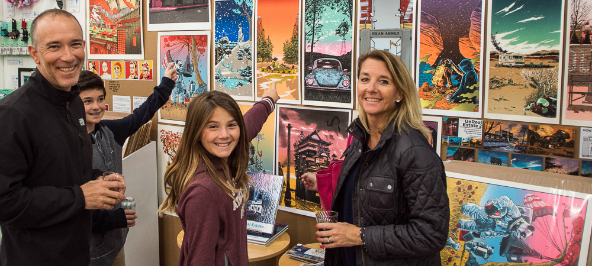 The Blue Genie Art Bazaar is a fixture of the Austin holiday season!
We have thousands of original works ranging from serious art to fun, kitschy items. Shopping at the Bazaar is a great way to buy holiday gifts in a hassle-free environment, all while supporting local artists.
All items at the Bazaar are handmade by local and regional artists that are selected through a rigorous jury process. The Bazaar features the work of more than 200 artists offering a wide variety of imaginative and beautiful gifts. You can expect to find paintings, photography, prints, sculptures, jewelry, clothing, accessories, glassworks, ceramics, and more gifts you can't find anywhere else.
Whether your budget is large or small, you'll find something for yourself, for your best friend, or for that impossible-to-shop-for relative. See you at the Bazaar!
Visiting the Show
Open Annually!
Nov. 13th – Dec. 24th, 2020
Hours: 10 a.m. – 10 p.m. daily (10 a.m. – 6 p.m. on Dec. 24)
Location: 6100 Airport Blvd. – From Airport Blvd., turn west onto Denson Rd., then south onto Dillard Circle. The entrance to the building faces Dillard Circle.
Cost: FREE admission & parking
Parking & Public Transit: Parking is available in the lot (enter from Dillard Circle) and along Dillard Circle. Bike parking is also available on site.
The Bazaar is also accessible via CapMetro bus and MetroRail, visit capmetro.org for routes and schedules.
Accessibility: We strive to make our event welcoming and accessible. ADA designated parking is available in the lot. The building is wheelchair accessible; but please be advised that the aisles may be crowded during high traffic times.
Kids & Strollers: The Bazaar is fun and family-friendly — all ages welcome! Strollers are allowed, but please be advised that the aisles may be crowded during high traffic times. A kid-friendly activity area is provided free of charge. Young children must be supervised by an adult at all times.
Animals: Service animals, required by a customer due a disability, are allowed inside the Bazaar. We kindly ask that all other pets remain at home.