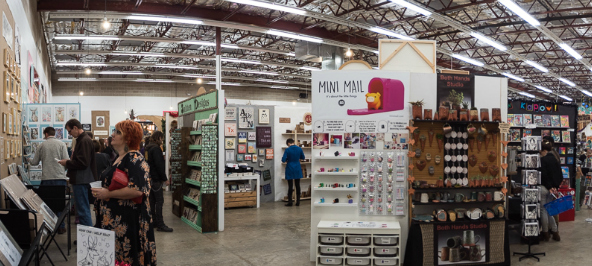 Each year we release a Call for Submissions inviting artists and artisans to apply to sell their work at our holiday Bazaar. All artists, even those who have exhibited before, must apply annually and are subject to jury review. All applicants are also considered for year-round inclusion in our online shop.
We strive to attract artists with handmade, high quality, unique artwork in a wide variety of mediums. We select artists whom we believe are capable of meeting the demands of the Bazaar in terms of style, volume, and affordability.
The Bazaar is unique among art fairs because artists do not watch over their space or cashier their own sales. All sales are handled by BGAB cashiers at centralized check out stations, as in a pop-up gallery or retail store. Customers appreciate the low pressure sales environment and artists are free create more work to meet our high volume show. Artists are also encouraged to promote the show through social networks and promotional materials.
Artist costs include the application fee and a 35­-45% commission based on total show sales. Sales tax and credit card merchant fees are paid by BGAB. At the end of the show, BGAB tallies the total sales for each artist, subtracts the commission, and mails checks in January.
Exhibitors for our May Market event, held annually during the month of May, are currently selected on an invitation-only basis.