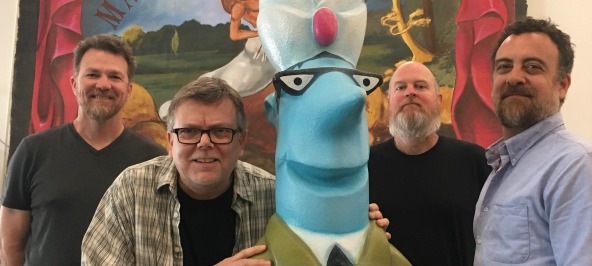 The first Blue Genie Art Bazaar (BGAB) was held in 2001 at the Blue Genie Art Industries shop, featuring items made by the employees. Without putting much thought into it, we built a few walls, hung up some clip lights, swept the floor — and then opened the doors. It was soon apparent that we had something exciting on our hands.
Now, the Bazaar features the handmade, unique work of over 200 artists, whom we select from a talented pool of more than 400 applicants each year. In 2020, we launched an online shop which provides a piece of the Bazaar experience all year round, and in 2021, we held our first spring market. We have spent two decades refining the Bazaar, and we're quite proud of what it has grown into.
Producing the Bazaar requires a lot of collaboration every year and we are grateful to the dedicated team working for us now and in past years. We are also grateful to the talented, creative, cooperative exhibitors who participate each year. And we are endlessly grateful to our patrons and to the Austin art community — we appreciate you, we thank you for all the great years, and we look forward to many more!
Image: The four Bazaar founders Chris Coakley, Rory Skagen, Kevin Collins, and Dana Younger pose with the store mascot
View Poster Gallery