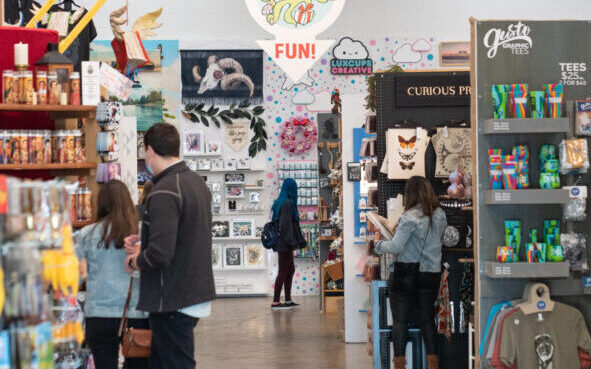 Shop the May Market this Spring
We are excited to announce a new spring arts event under the Blue Genie Big Top: the May Market! Like our holiday Bazaar, the May Market will be a free, family-friendly experience showcasing the work of 100+ regional artists and artisans under one roof.
The May Market will be the ideal place to shop for one-of-a-kind gifts for Mother's Day, Father's Day, graduations, anniversaries, weddings and more!
See the May Market Exhibitor List
Visiting the May Market
Dates: April 30 – May 31, 2021 (Fridays – Sundays only, plus Memorial Day)
Hours: 10 a.m. – 8 p.m.
Location: 6100 Airport Blvd. – From Airport Blvd., turn west onto Denson Rd., then south onto Dillard Circle. The entrance to the building faces Dillard Circle.
Cost: FREE admission & parking. Reservations are not required for this event.
Parking & Public Transit: Parking is available in the lot (enter from Dillard Circle) and along Dillard Circle. Bike parking is also available on site.
The Bazaar is also accessible via CapMetro bus and MetroRail, visit capmetro.org for routes and schedules.
Accessibility: ADA designated parking is available in the lot. The building is wheelchair accessible.
Mask Policy: Masks which cover the nose and mouth are required for all persons over the age of 10 (though still recommended for children over the age of two) while inside the building, at all times. Disposable masks are available at the entrance. Guests who refuse to wear a mask will be asked to leave.
Kids & Strollers: The May Market is fun and family-friendly — all ages welcome! Strollers are allowed, but please be advised that the aisles may be crowded during high traffic times. 
Animals: Service animals, required by a customer due a disability, are allowed inside. We kindly ask that all other pets remain at home.
Shopping Concierge: If you would like to purchase something from our storefront and have it shipped or held for pick-up, we can help! Fill out this form and a staff member will contact you.